HP At CES 2019: HP Chromebook 14 Combines AMD And Chrome OS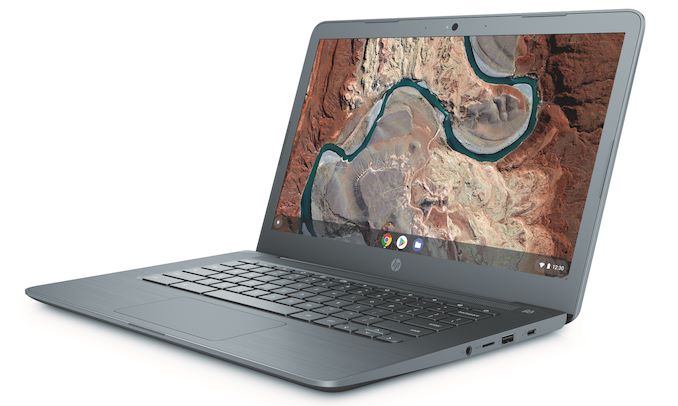 When the first Chromebooks were released in 2011, they were aimed at the lower end of the market and carried matching price tags. After Google launched its Pixel laptop in 2013 and proved that it was possible to address the premium segment, other makers of PCs followed on with more advanced Chromebooks that were more expensive. Eventually, Chromebooks somewhat moved away from being exclusively in the low end of the market, and towards a broader market covering multiple price ranges. With the low end market diminished by not forgotten, HP has announced that it's going to take another shot at this segment with its new Chromebook 14. Coincidentally, the Chromebook 14 is also the first ChromeOS-powered PC featuring an AMD processor.
As the name suggests, the HP Chromebook 14 features a 14-inch SVA display panel with a 1366×768 resolution and anti-glare coating. The notebook comes in a fine-looking chassis with a textured finish and a 1.8 cm (0.92-inch) z-height, though HP hasn't specified what kind of material it is made of. Given the thickness, it is reasonable to guess that some sort of a plastic was used (I would assume polycarbonate).