Vaccine for Petya (NotPetya) Ransomware Outbreak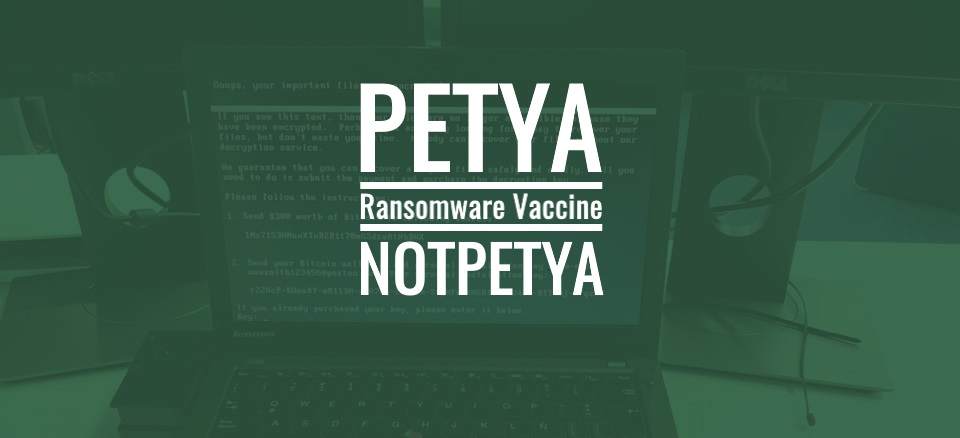 Step-by-Step Installing a NotPetya/Petna/Petya Vaccine
If you haven't already done it, yo should have your Windows computer configured to show file extensions. There are a lot of pieces of malware out there that try and get you to click on fake files. Having this enabled will help you spot the fake software more readily.
Let's get started:
Close all programs on your desktop.
Click the Windows icon in the lower-left corner of your screen.
Search for "This PC".
Click on "View".
Head over to the "View" tab.
Make sure that there is no check mark for "Hide extensions for known file types".
Click "Apply," then "Ok".
Once you have the file extensions enabled, open up C:\Windows folder.
Scroll down and find "notepad.exe" program.
Left-click on it once, and press on your keyboard CTRL+C (to copy), then CTRL+V (to paste).
When you paste a copy of the "notepad.exe" program will give a prompt asking you to grant permission to copy the file.
Press "Continue", and it will create a "notepad – Copy.exe" file.
Left click on notepad – Copy.exe once.
Press F2 (to rename) the file.
Rename as "perfc".
Once you press Enter, you will be asked to confirm renaming the file.
Click "Yes".
Click "Continue" to confirm.
Now that the perfc file has been created, make sure to set it to Read Only.
Right-click "perfc" file.
Select "Properties".
Make sure "Read only" has a check mark.
Click "Apply".
Click "Ok".
While C:\Windows\perfc file is all that is needed for the vaccine, it has also been suggested you create the C:\Windows\perfc.dat and C:\Windows\perfc.dll, by redoing the same steps for those vaccination files as well.
At this point, your computer should now be vaccinated from NotPetya/SortaPetya/Petya ransomware. At least this version.
Unfortunately, we can expect the developers of this software (or other third-parties) to change the way the software works. So, this workaround just won't last for long.